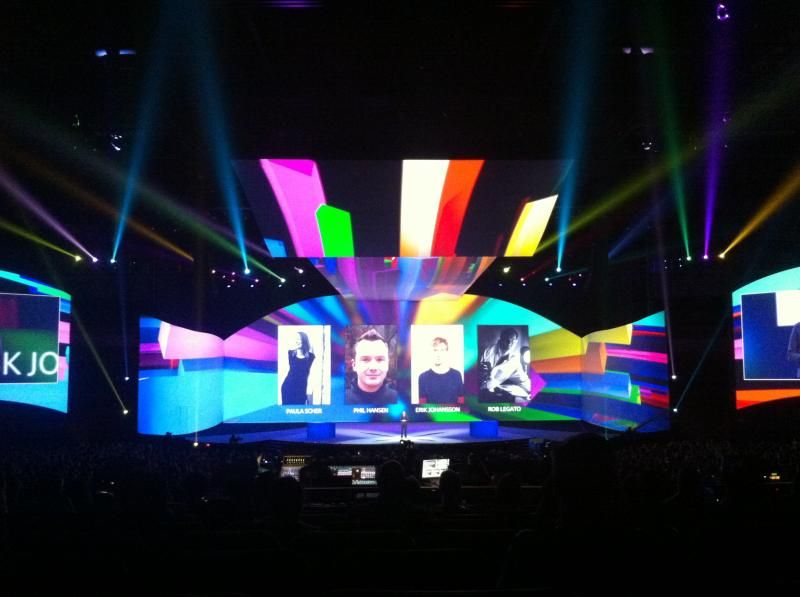 The 2013 Adobe Max Creativity Conference wrapped up on Wednesday night after taking over the Los Angeles Convention Center for almost a week. That time was packed with keynote speeches, labs, seminars, discussions, and more…all centered around what's up and coming for Adobe and the creatives who use their range of software and services. We also must not forget the Max Bash which is a night of food, drinks, music, dancing, partying, and networking with those in attendance. This includes designers, developers, coders, engineers, film makers, and more from the creative fields.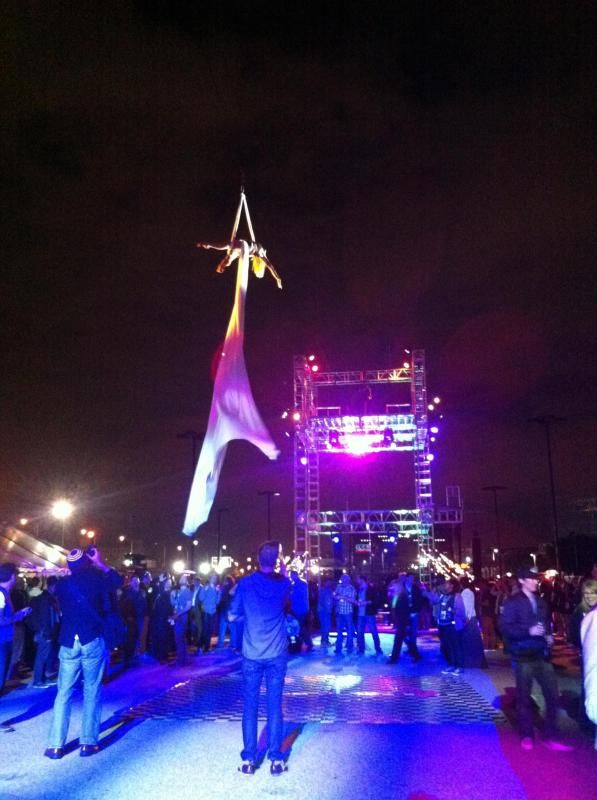 An aerial silk artist performing at the Max Bash.
This was my second Adobe Max event, and hopefully not the last. It's one of the most inspiring, educational, and creative atmospheres to be in. I was there working with a company called Digitally Speaking and was responsible for recording the slides and audio for some of the sessions, which I will link to in this article. I got to hear about the latest tips, tricks, and upgrades to various Adobe programs as well as listen to different CEO's, COO's, and other top level execs talk about the future of all industries within media, gaming, etc, and where things are heading.
You can find every keynote speech and presentation, as well as the seminars and discussions from this years event at
http://tv.adobe.com/show/max-2013/
You will find tons of videos to watch at the link above. These listed are just a few of my recommendations to watch:
1. A Creative Evolution - http://tv.adobe.com/watch/max-2013/a-creative-evolution/
The process of where and how we create is dramatically changing thanks to major advancements in technology, and there has never been a more exciting time. Join Adobe CEO Shantanu Narayen, Adobe's SVP and GM of Digital Media David Wadhwani, and a collection of Adobe visionaries across digital photography, web design, illustration, video and more as we unveil brand new creative workflows and capabilities. We'll take a look at the present and set our sights on the endless possibilities in our creative future.
This is the main keynote where the major changes to the Adobe suite are announced, including the move completely to the cloud with the new CC apps. Photoshop CC, After Effects CC etc. Adobe also unveils their first foray into hardware with Adobe Mighty and Napoleon, drawing tools to further bridge the gap between analog and digital creation.
2. Community Inspires Creativity - http://tv.adobe.com/watch/max-2013/community-inspires-creativity/
Join David Wadhwani, Adobe's SVP and GM of Digital Media, as he welcomes four incredibly creative minds to explore how they foster creativity and approach their work. You will hear from Rob Legato, an Oscar winning visual effects supervisor; Paula Scher, an iconic graphic designer and illustrator; Erik Johansson, an up and coming photographer and retouch artist; and Phil Hansen, a constraint-based artist that believes limitations drive creativity. We think you'll leave with more than a few new ideas to incorporate in your next creative project.
3. Adobe Muse: Creating HTML websites without coding - http://tv.adobe.com/watch/max-2013/adobe-muse-creating-html-websites-without-coding/
You haven't seen web design like this before. Meet Adobe Muse, a graphic designer's new best friend. Adobe Muse lets you create professional HTML websites that meet the latest web standards, without restrictive templates and without writing code. In this session, you'll see how to use Adobe Muse to: Lay a smart foundation for your site using sitemaps and master pages; Design freely, as easily as creating layouts for print, using familiar features found in Adobe Photoshop and InDesign; Combine imagery, graphics, and beautiful typography; Add engaging interactivity such as contact forms and slide shows; Publish with Adobe or a hosting provider of your choice.
4. Creating and Working Quickly with 3D in Photoshop - http://tv.adobe.com/watch/max-2013/creating-and-working-quickly-with-3d-in-photoshop-2/
Discover what's possible with 3D in Photoshop. Learn straightforward but exciting techniques for creating 3D type art, graphics, and more in your favorite image editing application. In this session, Richard Curtis, Digital Imaging Solutions Consultant, will share: What's possible with 3D in Photoshop; Newest 3D features and enhancements in Photoshop; Why the latest 3D features in Photoshop can be used to create compelling composites; Key techniques for getting started with 3D in Photoshop; How to create beautiful type art with Photoshop; Techniques, tips, and tricks to help newcomers to 3D begin and help experts accelerate their workflow.
5. Handmade Digital - http://tv.adobe.com/watch/max-2013/handmade-digital/
From broken lightbulbs, thousands of matchsticks, and papier-mâché to giant typographic installations made from fluorescent light tubes, neon signs, and smoke bombs, come explore a variety of interesting processes for combining a large-scale physical construction of handmade typography and graphics with digital post-production. Join three team members at The Made Shop: Marke Johnson, architect turned graphic designer; Kimberly Johnson, shop manager and producer; and Nathan Johnson, composer and art director, as they discuss the conceptualization, construction, and execution of recent handmade digital projects.In this multimedia session, you'll learn about: Behind-the-scenes time-lapse videos and documentation of the physical construction process; The meaning of and place for the handcrafted aesthetic in the digital era; Tips and processes for digitally manipulating physical-based graphics and typography.
6. Social Media and It's Impact on Design and Creativity - http://tv.adobe.com/watch/max-2013/social-media-and-its-impact-on-design-and-creativity/
Learn how social technology is transforming the shape of design and culture for more and more people, and what it can mean for you. Dylan Roscover, founder of The Experiential Company, will share insights on this growing phenomenon, the toolset he uses, and a few key techniques you can employ to stand out from the crowd creatively.In this session, you'll learn: The effects of social technology on user and client expectations; Tools and workflows that harmonize with these new expectations; Techniques that alleviate technical stress and yield greater creativity.
7. Behance: Connecting the Creative World - http://tv.adobe.com/watch/max-2013/behance-connecting-the-creative-world/
Learn how to work with Behance, the leading online platform for showcasing and discovering creative work. You'll gain insights into Adobe's vision behind the acquisition of Behance and how we plan to build the community and connect it with Adobe's creative tools. Join Scott Belsky, Adobe vice president of products and community and cofounder of Behance — along with some of his colleagues — to find out how to: Gain more exposure for your portfolio; Explore the galleries and collections in Behance; Benefit from the Behance ecosystem.
8. Sneak Peek: Playing with Lighting in Photoshop and After Effects - http://tv.adobe.com/watch/adobe-technology-sneaks-2013/sneak-peek-playing-with-lighting-in-photoshop-and-after-effects/
Photographers will often tell you that "It's all about the lighting", and this sneak experiments with playing with lighting after the fact. Tweak image lighting based on selected samples, and turn your home movies into blockbuster hits (or at least make them look the part) by adjusting lighting modeled on any movie you choose. It is early prototype technology that we are working on in our development labs. This is not part of Photoshop CC or After Effects CC, but is an example of capabilities that we could include in future years.